Choose A or B. Who uses Facebook more today . . . ?
A) Grandmothers
B) High School Students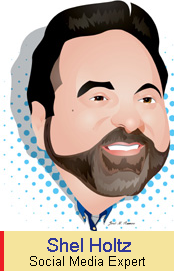 According to Social Media Expert, author and speaker Shel Holtz more baby-boomer aged grand-mothers own social networking accounts today.
Shel Holtz is our guest expert on this podcast episode of Interviews with the Experts and he tells host Michael Searles the reasons why mature aged internet users are embracing social media with a passion.
When Shel Holtz is asked what is so good about social media today he answers "three things . . ." with a such conviction in his voice there is no doubt he is truly passionate about his area of expertise.
He shares some interesting points about how corporations are using (or not using) social media in their marketing mix. There's even a few tips for the home-based entrepreneur who, like Shel, may be building their business empire from the spare room at home. The podcast is cued and ready to stream through your headphones or speakers below.
PRESS PLAY
Visit Shel Holtz online at
www.holtz.com
or at his Twitter account via
@shelholtz
.
Note:
Wednesday April 14, 2010 - Day after first publishing the above post
Michael Searles Social Media Channel has changed the title of this post from 'Social Media Magic with the Expert, Shel Holtz' to 'Social Media with the Expert, Shel Holtz' following an email received by the Chief Strategist of Social Media Magic claiming a breach of trademark and that our podcast was causing, quote, 'major conflict with our programs', end quote. Michael Searles, http://www.michaelsearles.net/, http://www.michaelsearles.blogspot.com/, Michael Searles Social Media Channel, Big Buzz Interviews and Big Buzz New Media do not intentionally or otherwise want to cause any person, project or business entity conflict of any kind. Consequently, without wanting this issue to escalate,

the title of this post has been changed

as requested by Social Media Magic. Final comment. Time to rejoice! I once read that when somebody considers your online work to be a threat to their own online work you have reached a level of influence. I'm interested now to here if you, the reader have experienced receiving a 'cease and decist' threat, and how did you respond? Use the comments section below.
This program is for information and entertainment purposes only. Michael Searles, Michael Searles Social Media Channel and www.michaelsearles.net are not liable nor responsible for the outcomes of any person who acts on the information provided. Always seek professional advice for health, legal and financial matters.