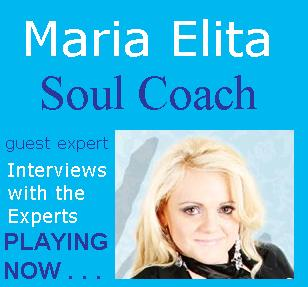 Press Play
or
Click Here
if Podcast Player Will Not Load
M

aria Elita is an author, speaker and Soul Coach to the stars.
Here she talks straight from the heart about success, intuition, fear, ego and greed baring her own soul in this candid interview with Big Buzz Interviews host Michael Searles in another episode of Interviews with the Experts.
Maria Elita is back on Big Buzz Interviews by popular demand. Her first interview on this channel generated the highest number of audio downloads of all interviews published this year.
The public speak with their finger tips! They love Maria's straight talking style, and you will too.
More than an interview - this podcast is a course in how to succeed in business and in life using your intuition minus the fluff.
You will hear Maria Elita talk for more than forty-five minutes about -





connecting to the soul part of the brain




you are unique - your story is not






being of service to people




stop trying to 'figure it out' and start trying to 'feel it out'




no fluff success formula with intuition is as natural as breathing





Listen also to how you can get a copy of Maria's book, 'Intuition Tuition' free!
Disclaimer:
This program is for information and entertainment purposes only. Michael Searles, Michael Searles Social Media Channel,
http://www.michaelsearles.net/
/, Big Buzz Interviews,
http://www.bigbuzzinterviews.com/
and Big Buzz New Media are not liable nor responsible for the outcomes of any person who acts on the information provided. Always seek professional advice for health, legal and financial matters.

Creative Commons Attribution
No Derivative Works 3.0 Unported License